One of India's ancient temple town Maheshwar, known for its Maheshwari Silk, is situated along the River Narmada. Maheshwar literally means Land of Shiva. Does not matter whether you are spiritually inclined or not, Maheshwar has an irresistible charm. The vibrancy in its Ghats and Forts is distinctively peaceful. Besides the mesmerising Ghat and the enthralling fort, the streets of Maheshwar have vivid display with colourful wooden houses with lovely balconies. This place is enchanting and serene.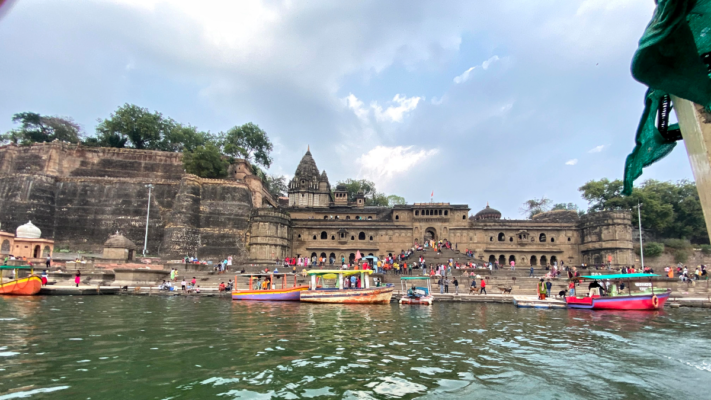 Maheshwar reached its cultural pinnacle under Rani Ahilyabai Holkar. Rani Ahilyabai is not only the Pride of Madhya Pradesh but amongst the bravest queens India ever had. Not only Rani Holkar greatly patronized arts, literacy, culture and livelihood during her time, she executed many initiative towards woman empowerment and is still remembered as greatest icon for woman leadership.
Rani was one of the greatest architect of forts, builder of temples and cities. Being a fearless warrior and a clever politician, Rani Holkar protected her people from various adverse situations. Devi Ahilyabai appointed the construction of numerous temples, Ghats and other structures in India. Rani was a widow, and alone rose to become one of the Maratha empire's most powerful and inspiring personalities. The success of her initiatives showed the world what woman are capable of.
The Maheshwari Silk
During her time, Rani Ahilyabai Holkar invited Weavers from other states to settle in Maheshwar, inspired them to replicate the intricate designs of the fort on fabric. This was the origin of the widely celebrated and irreplaceable Maheshwari silk. Maheshwari handloom derive its simplicity and elegance style from this enormous being.
During her lifetime, Rani Holkar built and renovated numerous temples and dharmashalas throughout the length and breadth of India. Rebuilding temples and the Maheshwari Saree are amongst the living legacies of Rani Ahilyabai. The Maheshwar town and Maheshwari handloom weave have become synonymous with one another. The Maheshwar weaving is source of livelihood for majority population of the Maheshwar town. The colourful handloom Sarees are never out of sight in the streets of Maheshwar. The rhythmic sound of handlooms weaving the fabric thread by thread in the weaving houses of the town are always treat to our ears.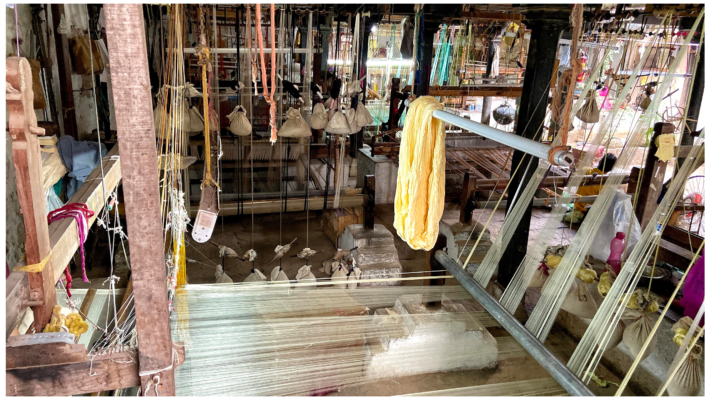 Maheshwari sarees are known for its intricate designs derived from the patterns engraved on the walls of the Maheshwar fort, its Gold border, its checks and very fine texture making them very unique. The sensitivity of the border comes from the flowing river. Each border has a unique name depending on its fluidity and sensitivity. So you have a border with the name Narmada and it carries the same fluidity as the river. There is also a saree with name Ganga Jamuna with two different colour and design on the border. With the finest blend of Cotton and Silk, Maheshwari Silk is a beautiful Indian weave that is light in texture and colour, making them most ideal for all weather and look elegant.